How Much Do Custom T-Shirts Cost?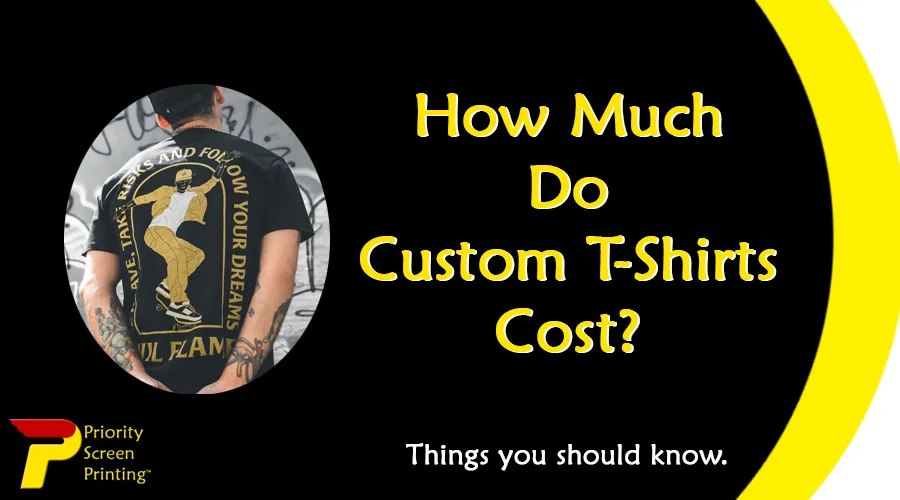 Of course you're wondering, "How much do custom t-shirts cost?". This is a common question asked online and in our Corona print shop about custom tees. In this article, we'll discuss the pricing differences you can expect and the variables that can change the cost. Retail prices for custom t-shirts can range in cost from about $5-30.
Below we'll break down the factors that can change the cost between those two pricing extremes.
Factors that can be important when considering the question, How much do custom t-shirts cost…
Locale
If you live in a city/community with a large population (like at our t-shirt shops in Corona, California and Madera, California), chances are you'll find some reasonably priced T-shirt shops in the local area near you.  Local shops are a great option because you can discuss your needs with the printer one-on-one and explain exactly what you want. 
Local screen-printing shops near you may even have a few samples of different shirts from different manufacturers that you can see. T-shirts can vary in fit and materials and getting a chance to see and feel them is a definite plus.
If you live in an area with few or no T-shirt shops, you'll likely need to order your custom tees from a T-shirt shop online. With this option, you must be especially careful that you're ordering correctly and providing the proper artwork files for printer use as many of the industry errors occur from ordering from a t-shirt mill and getting satisfaction after a mishap can be near impossible. 
Keep in mind… our facilities in Corona and Madera can ship directly to you nationwide for less than you might think and still give you the personal attention you deserve!
---
Ink Color (complexity of your custom design)
Color and number of colors are another factor in the cost of custom shirts. Easiest to print is mid to darker color ink on a white shirt. Many shops will print any of these colors at the lowest price point. If you happen to want a specific color (like a Pantone mixed color – there are almost 2,000 of these), the shop may charge for the mixing of the Pantone color (we do not charge for the first Pantone ink mix).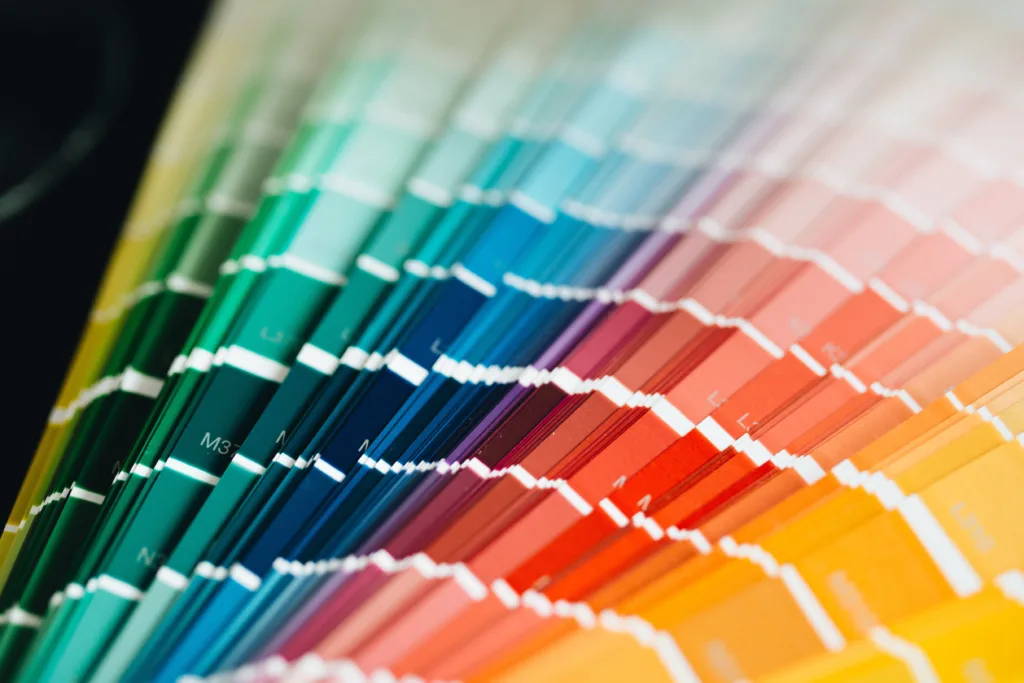 If you're wanting prints on a colored shirt, there is the possibility that the printer may have to lay down a base white ink under any other colors you'd like printed. The reason for this is to block the color of the shirt from affecting the color ink being printed on it. Example… If you print Corona yellow and red on a black shirt without the white underbase, the colors will not have the vibrancy compared to the shirt that has the white underbase laid down first.
Bottom line here… if you select a darker color tee, you'll likely have an extra ink color to pay for due to the need for a white underbase. Custom t-shirt costs rise with additional colors or special locations or numbers of prints per garment.
---
Quantity – How many shirts are you ordering?
This one is kind of a biggie and it's a bit complicated when coupled with print method.  If you get only a few shirts printed, you'll see a much higher price with screen printed shirts. If you want to order only a few shirts, the best choice will be a direct-to-garment print, or a vinyl decal that is printed and then attached to the garment with a heat press.  These types of printing are not as vibrant or long lasting as a well-made screen-printed t-shirt though. 
While screen printing is the method of choice for quality and longevity, the time and effort to set up the press for the print run is much longer than the other methods mentioned, and as such, you won't be able to get the best price for a custom T-shirt on small numbers of shirts with this method.
You'll get the best quality and best price by ordering 20 or more screen printed shirts.  Price for screen printing drops dramatically if you order a large number of shirts.  Once you get up to 100 or more, you can expect a pretty sweet deal for having a custom shirt of your own made for personal or business use (hey, maybe you like to rock out and would like to buy band t-shirts… we love helping local bands near us get the word out!).   
---
Quality
Quality is pretty easy concept to understand, but also subjective. Some manufacturers charge more than others and some fabrics feel nicer(softer and more fitted) than others. Our least expensive option is actually a great one, but for a couple dollars more, you can move up to an even nicer tee. Personal preference and budget factor in here.
If you're looking to get a business name on the streets, you'll likely just opt for the Gildan t-shirts. Gildan tees will look great and last a long time. Many people love the fit and feel of Port & Company and Bella+Canvas options for a small increase in cost.
---
Shirt Size
Some people don't consider that shirt size might affect the price of a shirt, but when you get up to the larger sizes (XXL, XXXL, etc.), the price jumps a bit (sometimes as much as $4 per shirt).  The additional material needed for the plus sizes and handling difficulties on the press is what pushes the price up a bit for these tees. You can expect not to pay any surcharges on anything from kids sizes up to an adult XLarge.
---
Shirt Color
Shirts of different colors don't vary much in price. Basic white is usually a bit lower than other colors.  Also, some colors that are low in inventory at the manufacturer can have a higher price and some colors that are in surplus might have a special deal running. 
The good news…. for the most part, these price differences are not enough to make you select a different color. Choose a color that you'll be happy with and go with it. You don't want to settle for something you aren't 100% committed to and then regret it later.
---
Shirt Fabric
Pricing can vary here depending on the fabric and type of shirt you choose. Typically, you'll have 3 main variations. Cotton tees, polyester tees, or a blend (more than one type of thread in the same fabric). Again, costs will vary between fabric and manufacturer and isn't usually extreme.
Cotton is the primary fabric used for making t-shirts as it is comfortable, durable, and breathes well.
---
Placement, Size, and Number of Print Locations
As you might imagine here, the size of the print will be a factor, as will the number of print locations and placement of the prints. The least expensive size and location will be a small pocket position front print or a sleeve print. Full size front prints and back prints will be more due to the need for excellent centering and the need for more ink due to the large design.
You might encounter charges for hard-to-reach areas you choose such as various locations on the sleeves, hood (for hoodies/sweatshirts), etc.
---
Method of printing the design on the garment
As briefly discussed in the Quantity section, the method of print will also be a factor in pricing your custom tees. Direct-to-garment, heat pressed vinyl, and digital printing methods are good for small numbers of full color shirts (1-12), the cost for this type of service can be a bit pricey (up to $30 or so depending on the other factors mentioned).
The screen printing process is the best choice if you're ordering 20 or more custom t-shirts. Screen printing 100 shirts with a single ink color, prices can drop to under $8 each. Ordering 500 or more shirts? You might be surprised to find prices even lower.
Keep in mind here also that screen printing is a high quality print which is more vibrant and more durable than other options such as vinyl decals, or transfer printing which uses a heat press.
---
Personalization
If you need personalization on your shirts (names or numbers for team jerseys for example), those will need to be handled on an individual basis and you can expect a surcharge for each special printing. You likely won't need many of these as there are a limited number of players on sports or other teams.
With this in mind, you'll likely be getting these as a heat press vinyl for the design as well as the customizations.  Our shops in Corona and Madera will sometimes screen print the shirts, and then add individual names and numbers via vinyl heat pressing.
---
Custom Design Fees
If you are bringing your artwork to the printer in a format that needs little or no change before being used to print, you should have no artwork upcharge. Much of the time, however, the printer will need to spend time preparing the file for the work to be done.
In screen printing, colors might need to be separated as they are placed on the shirt with individual screens.  Additionally, if you need help with the design, you can expect to pay an additional fee for this.  If you're ordering a good number of custom tees, the fee will be nominal. Our shop will sometimes waive the fee for our VIP clients (fyi… all of our clients are VIPs 😉
---
Set-up Fees
Depending on how many colors your shirt design has, the time in set up for screen printing can rise accordingly. Our Corona print shop doesn't charge a fee for set-up of a one color job. We might just waive the set-up for two color jobs as well, depending on the art design. Especially if the colors don't touch each other.
---
How Fast You Want Your Custom T-Shirts Completed
Many local print shops will have a standard turnaround time of between 7-15 business days. If you'd like your custom shirts faster than that, the total costs typically go up substantially.   Sometimes the "near me" isn't as exciting as you might expect. Fear not… we've got you covered. As long as we have available time in our schedule, we're happy to help you get it fast.
Depending on inventory and availability, our Corona/Riverside facility is able to provide same day service in some instances. Often times we can do it for you in 24 to 48 hours without additional charge, and regularly within 5 days.
With all this information, you probably have a new perspective on custom printed t-shirts. The next time you're pondering the question, "How much do custom T-shirts cost?", you'll be one step ahead of the next guy (or gal).
How Much Do Custom T-Shirts Cost – Final Thoughts
Don't worry if this all still sounds confusing to you. Send us a picture of your intended design, including where you'd like the prints and number of colors you'd like. Once we receive that, we can give you a no obligation quote for the number of custom shirts you want.
At that point you'll have a definitive answer to the question, "How much do custom t-shirts cost?". I also want you to know we're in your corner. If there are some slight changes that can be made to save you $$$, we'll let you know.
Contact us today and tell us about your idea. We're waiting to hear from you!