Cheap Custom T-Shirts Near Me? Here you go!
I know… you're searching "cheap custom t-shirts near me" in Google right now aren't you? You might think "cheap" is a great idea now, but I know you might just change your mind later if you just focus on "cheap". I don't want that to happen to you! Please know that it is possible to get quality custom printed T-shirts that are also inexpensive. Here at Priority Screen Printing, we have quality custom garments for at amazingly low prices!
Why We're The Better Choice For Cheap Custom T-Shirts Near Me…
We at Priority Screen Printing likely have similar or better quality for the same price. Not all printers of custom t-shirts will produce the results you might expect. There are literally thousands of combinations when it comes to finding the right T-shirt and printing process. There are hundreds of shirt styles, shirt manufacturers, fabrics, and colors, and over 1,000 ink colors to choose from. Choose the wrong t-shirt shop, and you are liable to get cheaply printed custom shirts that haven't been properly printed or even worse, haven't been properly cured (this is where your shirts are sent through a specially designed heated conveyor dryer in order to fuse the plastisol ink to the fibers of your shirts).
Properly cured shirt prints will withstand many washings and fabric stretching without the custom printing peeling, severe cracking, or just plain flaking off your new shirt.
Trust us…those other guys promise the world and sound great. But we have clients that ordered from other companies that complained of their prints coming off after JUST ONE WASH! Going with another company halfway across the country and saving 50 cents isn't worth having an unwearable shirt after just one wash, or even ten washes. We want you to be able to enjoy your shirts for years, not days.
Why They Don't Care And We Do…
Other companies do business with the idea that once you've paid, their business with you is done. Quality suffers when they don't need you to be a return customer. After all, they have millions of potential clients all over the world to replace you. They constantly run Google click ads for a constant stream of new customers.
I want you to understand that these big box discount shirt mills have a LOT of overhead and many use unethical labor. So to give you that unbelievable price, they have to cut corners somewhere (hint: Quality). Conversely, smaller companies like our shop in Corona, California have a much smaller cost of operation, allowing us to offer competitive pricing while keeping the quality in the product and print while producing them right here in the U.S. We also have a location in Madera, California.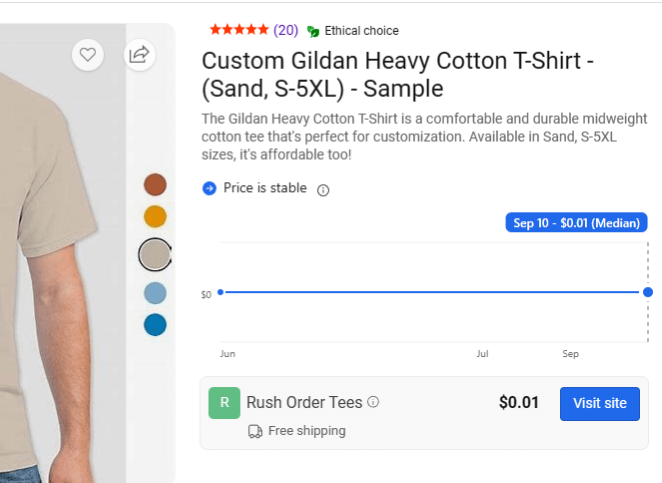 Sometimes the ads you see are just TOO GOOD TO BE TRUE. Really? One Cent? Yes, you got it… too good to be true!
Give us a look…
Before you try one of the cheap t-shirt mills, contact our Corona office and give us a chance to earn your business. We provide U.S. made quality custom t-shirts at amazingly competitive prices. Or if you don't care about quality… we can do them even cheaper 😉 Just joshing ya! That kind of stuff leaves our facility in the dumpster.
Remember… cheap custom t-shirts don't need to be "near me". We can ship them anywhere in the U.S. in as little as 24 to 48 hours (depending on shirt stock on hand at our distribution hub or Corona CA location). Contact us today for a free T-Shirt quote! I look forward to hearing about your project and providing you shirts you'll be proud to wear. I manage our facility and will talk with you personally.