Custom T-Shirt Printing In Corona – The 7 Step Process
There are different shirt printing methods to create custom printed t-shirts. This article will specifically look at the 7 steps of screen printing. Let's dig in and take a look at how we handle our custom t-shirt printing in shops in Corona and Madera, California.
At Priority Screen Printing, we pride ourselves on the ability to assist our customers from idea to final product. In this article, we will focus on the garment printing process from start to finish. We'll also show you how we take your ideas and bring them to life, printing custom t-shirts you can be proud to wear or give others.
Artwork / Design
When you call our print shop, we will discuss your ideas with you and find out what you have in mind for design. We'll also confirm what type and material you'd like for your shirts (or sweats, or pants, etc.). If you have high quality vector artwork ready to go great, if not, don't worry about it.
We can take a sketch, idea, or file of artwork for a t-shirt design, having our graphic designer create or modify the artwork as necessary to create a high-quality vector file (this is an art file used for screen printing where the detail is not lost when the artwork is resized to suit the custom t-shirt printing area).
You may want something fresh, or you might want something that incorporates your company logo or event logo. We've got you covered. We can not only make artwork from scratch, but we can also pull from your website if you want something you have already created. Even a sketch on a restaurant napkin!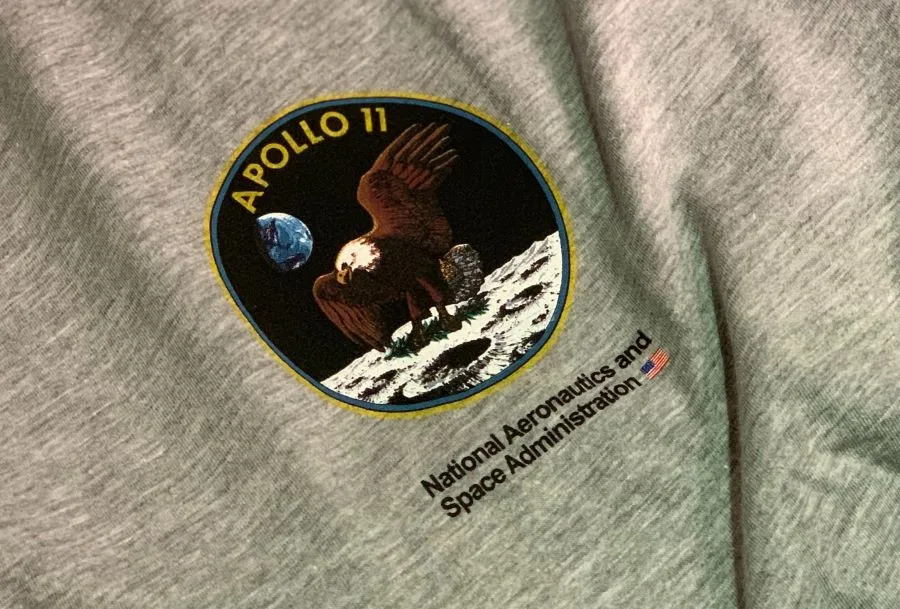 Screen Preparation
Once the artwork design is prepared for the shirt, we then print a custom stencil which is printed on a transparency in order to burn the screen used for printing the custom t-shirts. "Burning the screen" involves placing a coating on a screen and then using a stencil and a UV lighting unit. The UV light exposure hardens the emulsion coating, while leaving image area soft.
After exposing to the UV light, removing the portion of the screen printing stencil where the ink will need to penetrate is done with pressurized water (either a pressure washer or even a garden spray nozzle).
When our screen is ready for screen printing, we attach it to a specialized screen printing machine (such as our Anatol Thunder) and arrange it in such a way as to place the artwork in the desired position on the shirts.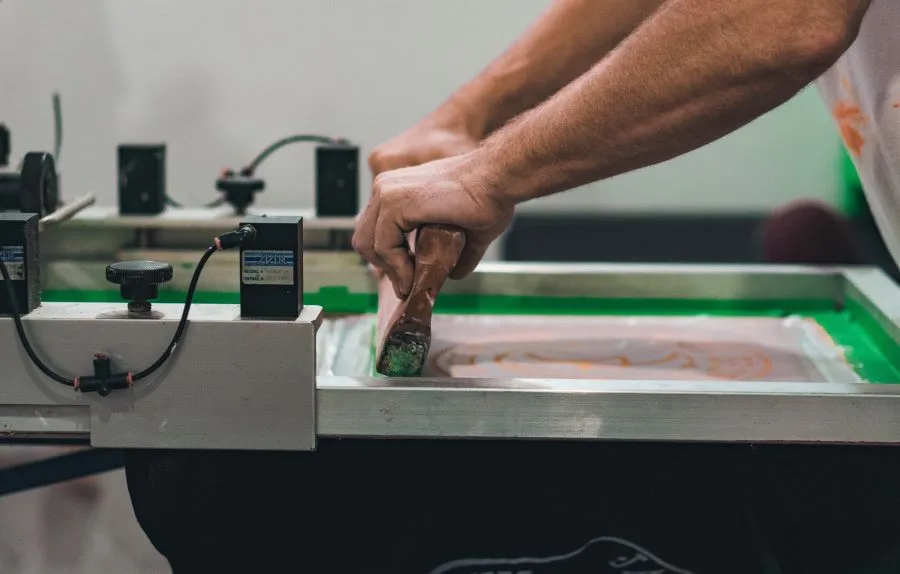 Alignment On The Screen Printing Press
If more than one color is needed, multiple screens must be prepared and burned (one screen for each color print). If multiple colors are desired on the shirt, all of the screens need to be micro-aligned in order to place the ink colors in the precise location needed.
This process is easier said than done as a minute variation can cause a poorly aligned print. This doesn't look good for you, your event, team, or business. We work until we get this part right… we want you to look good wearing our shirts around Corona and the rest of Southern California!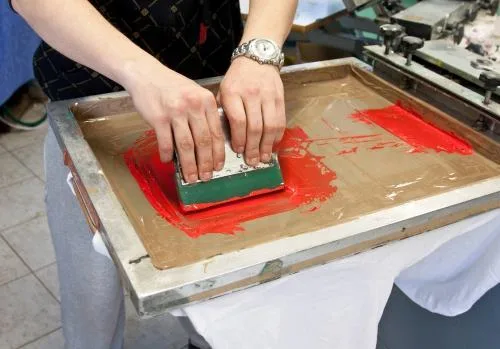 Ink Preparation
You'll always need at least one color when printing a shirt, but sometimes a design will require multiple colors. While custom t-shirt printing, choosing the correct colors is an important step in arriving at a good looking final product. There are more than 1,000 colors available on the Pantone scale.
If a customer comes into our Corona or Madera location and is looking for a basic color, that's easy. We can just pull it off the shelf and start printing. If they require a Pantone color, we get the necessary plastisol based inks and mix the desired color right in the shop.
Placement Of The Garment
Now we're ready for the the shirt production phase. After carefully placing the shirt on the "platen" (this is a fancy word for shirt holder), we must make adjustments. We are careful to place the shirt in the proper location so the print is deposited at the desired spot on the shirt.
It's also important to make sure the shirt is placed with proper alignment, so the print isn't crooked or tilted. Since a t-shirt stretches, it's important to lay the shirt in such a way that there is no distortion in the fabric prior to printing.
Printing The Image On The Shirt
Once we have placed the shirts, we're ready to lay down some ink. Keep in mind that many machines have only 1 – 6 platens, or shirt holders. This means that after printing those shirts that have been placed, we'll need to remove them and replace them with 6 new shirts. If we have a 300 shirt order, this means manually replacing and centering the shirt groups FIFTY TIMES!
With a specially made squeegee, we're now ready to spread and push the ink through the prepared and placed screen. This deposits the ink on and partially into the fibers of the shirt.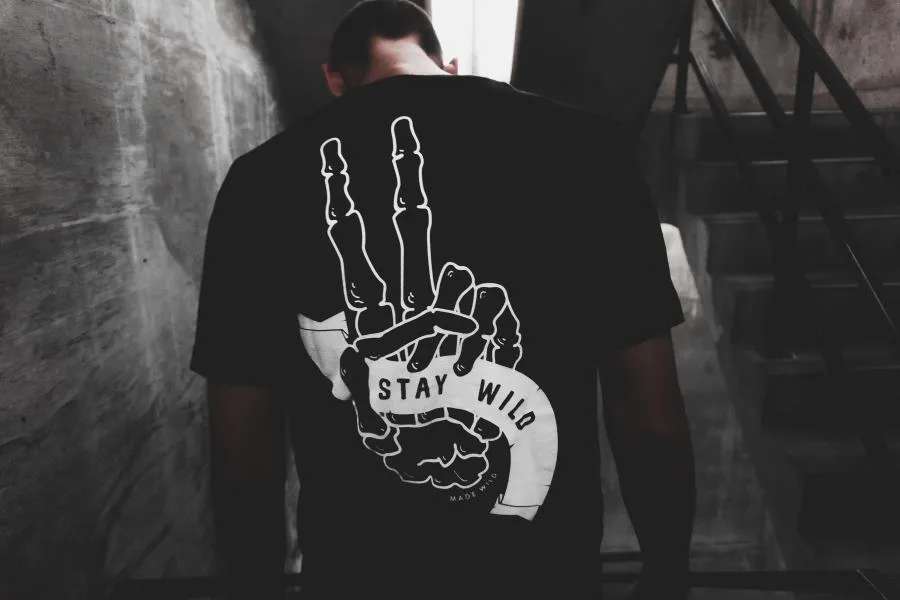 The Curing Process
When custom t-shirt printing in Corona, it is very important to get the final product right. We use a conveyor dryer to cure the ink in our screen printed shirts. A conveyor dryer looks similar to a pizza conveyor where the uncooked pie is placed on one end, and a cooked pie soon comes out the other end. In the printing business, the conveyor takes the shirt and heats the ink to curing temperature before expelling it to cool.
We cure the shirts in this way to make sure your print is embedded into the fabric and will last for many washes and wear and tear. Failure to properly cure the print can cause custom printed tees many problems. They can peel, crack, or fade prematurely (sometimes in the very first wash). Getting this part right is just as important as the other steps involved in custom t-shirt printing.
Voila! Your Custom T-Shirts Are Ready To Wear
After curing, you're ready to sport your tee on the go! Show the world your creative side. Advertise with style, make someone your very own walking billboard. Advertise your event or business cheaper than you ever thought.
For $6, you should be handing out your custom tees to everyone within reach, because who doesn't like free t-shirts? Ready to make it happen? Get in touch with your favorite screen printing shop near you today!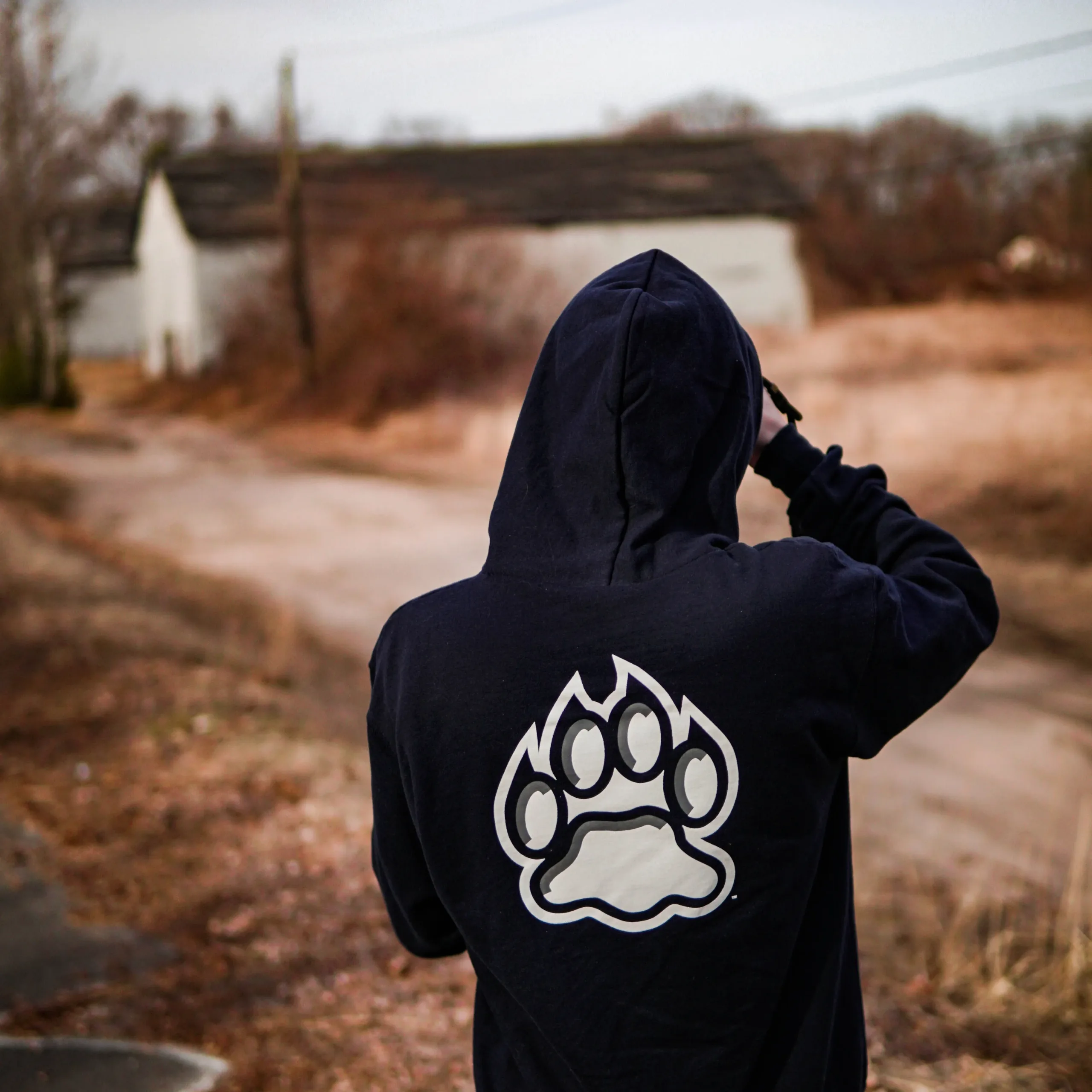 Custom T-Shirt Printing – Final Thoughts
While there are several shirt printing techniques, most experts agree that screen printing is far superior to other methods such as DTG (direct to garment), digitally printed heat transfer paper, or dye sublimation printing. Some of the techniques listed are beneficial when only a few garments are desired, or when full color complex designs are involved. Barring those instances, screen printing is the king of shirt printing options and a must when printing large orders where budget is a factor.
While this article focused on the custom t-shirt printing process, the process for hoodies, sweats, pants, jackets, tote bags, or anything else you can think of to print on is virtually the same with slight variation in set-up and or ink additives.